Unlocking Growth: Expanding into New Markets and Services
Software Solved
Software Solved
Software Solved
Software Solved
Software Solved
Software Solved
Software Solved
Software Solved
Software Solved
Software Solved
The current economic uncertainty, was creating ripples across many businesses, many recognising the need to invest their budgets carefully to secure their future growth. Software Solved, a custom software development company, came to us wanting to gain a better understanding of this shift and how they should be adapting their strategy to gain a more effective customer outreach.
AI Market Pulse
Market Intelligence
Competitor Review
Customer Intelligence
Audience Interviews/Surveys
Strategic guidelines
Our Challenge
The challenge was to provide SoftwareSolved with a complete understanding of the competitive landscape, and the evolving trends in the market, and to understand customers' viewed their competitors.
Identifying New Markets and Services
To gain insight into the current trends and market growth across the retail and insurance industries, distilling the growth opportunities for Software Solved.
Better customer outreach
SS wanted to enhance its customer outreach strategies, in order to strengthen relationships with current clients and expand into new markets. This involved identifying the most relevant services to offer to different clients and determining the most effective approach for each.
The Solution
Expanding Software Solved's Growth
Based on in-depth competitor and market trend analysis, we synthesised and recommended the markets and services that would give SS the biggest growth potential, and helped to frame their marketing and sales strategy.
Identifying Key Opportunities
Using a combination of AI-enhanced web data scraping, natural language processing and semantic clustering, surveys, interviews, and desk research, we were able to gain a comprehensive understanding of the current market demands and opportunities. Through this, we were able to identify key areas of focus and potential growth for SS.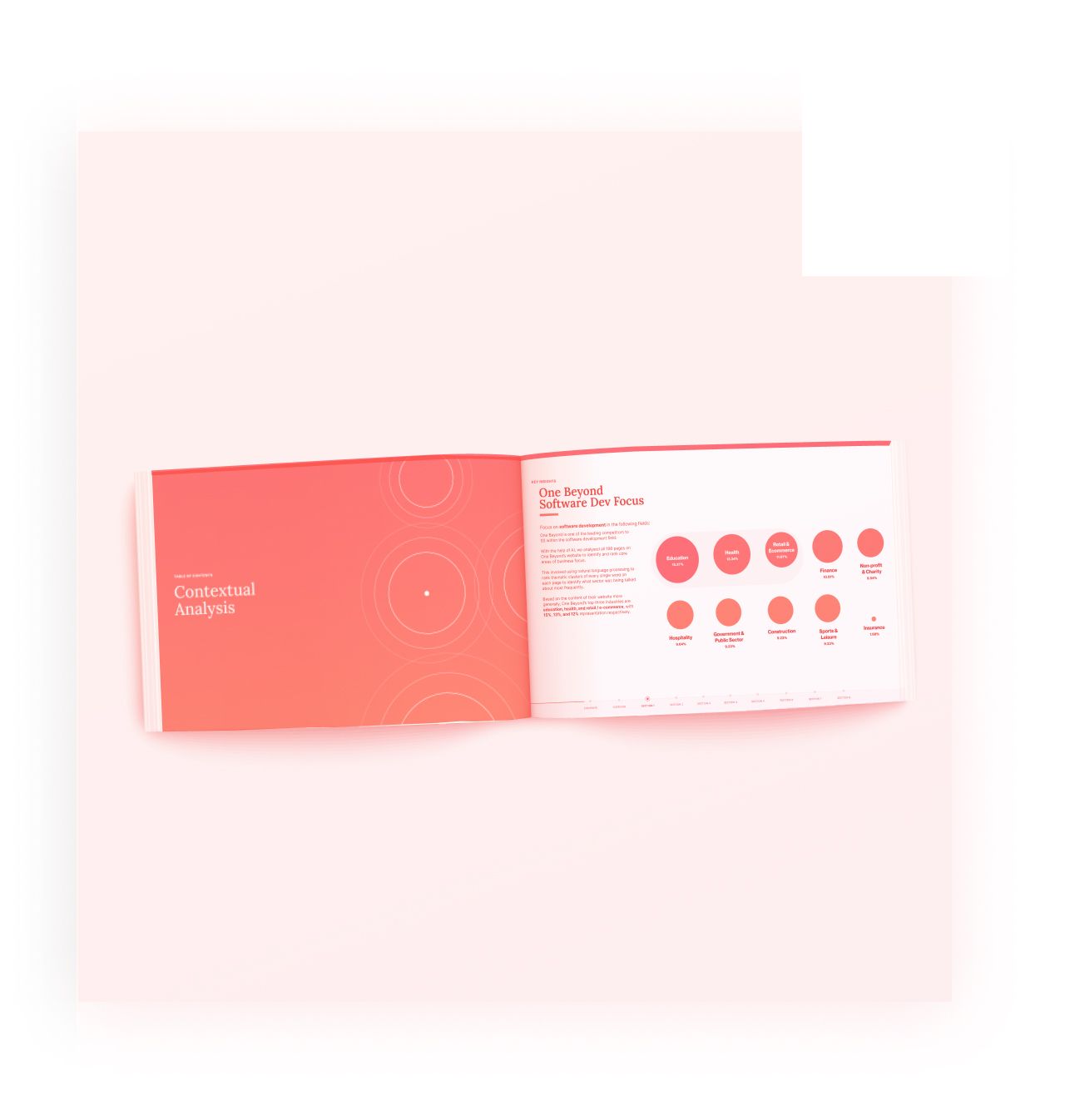 Understanding the Playing Field
Through a thorough examination of the industry, including a deep-dive analysis of the websites and online presence of key competitors, we were able to understand market share divisions, areas of focus for each company, and opportunities for SS to leverage their existing unique advantage.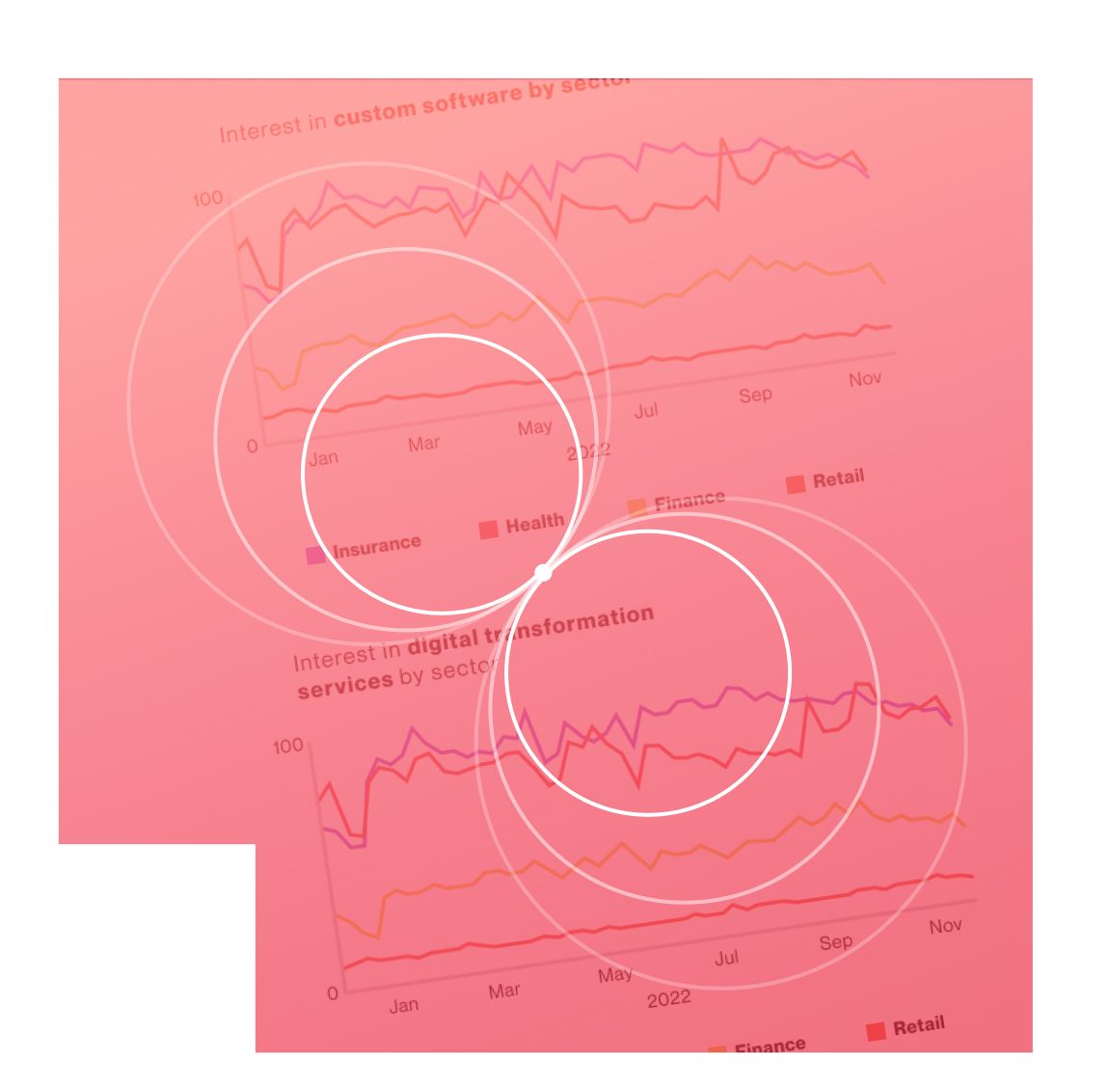 Aligning Needs and Expectations
By identifying the most promising sectors and services, we were able to develop targeted outreach strategies for both existing and potential clients. This included guidelines for messaging and branding, as well as recommendations for pre-sales strategies, all aimed at building stronger relationships and generating new business for SS, with an increased focus on consulting for smaller clients, and sustained highlighting of custom software development services for larger ones.
Happy Clients
Testimonial
Pomegranate delivered to the brief; they were on time with their report and it was thorough and well-researched. We enjoyed working with them and feel that they got a sense of who we are and what we wanted from them. I'd certainly recommend their services.
Rose Elliott
Head of Marketing
Our Work
Just some of our most

successful

projects