Uncovering unconscious drivers and motivations behind learning
Justin Guitar
Justin Guitar
Justin Guitar
Justin Guitar
Justin Guitar
Justin Guitar
Justin Guitar
Justin Guitar
Justin Guitar
Justin Guitar
Justin Guitar is a successful online coaching and teaching platform that has helped millions of people learn to play the guitar.
The Challenge
Uncovering people's unconscious responses to guitar learning
Having recently launched a new Beginner Guitar Course, Justin wanted to understand how he could improve the experience for beginners. He had noticed a large drop off from the course and wanted to understand how he could optimise the experience and motivate beginners to complete the online course.
Reducing abandonment
Our challenge was to determine where and why the drop-off was occurring on the beginner course and what can be done to increase student engagement and retention.
Understanding unconscious stimuli to learning
We were keen to understand what motivates people to learn, their attitudes to learning as well their pain points and expectations. This would enable us to provide accurate insights and recommendations for optimising the online experience.
The Solution
Growing, optimising and differentiating Justin Guitar
Through focused testing, we identified friction points and decision triggers that prevented existing customers from resuming their lessons. The outcome was a highly actionable insight report, filled with evidence and recommendations on how we were able to support Justin, to grow and optimise his online experience.
Understanding behaviour & motivations
Through user interviews and 14,000 survey responses, analysed with machine learning techniques, we established key patterns in motivations and decision triggers that needed to be leveraged for encouraging regular practice and retaining users. We also were able to identify key frustrations and frictions which prevented existing customers from continuing their course.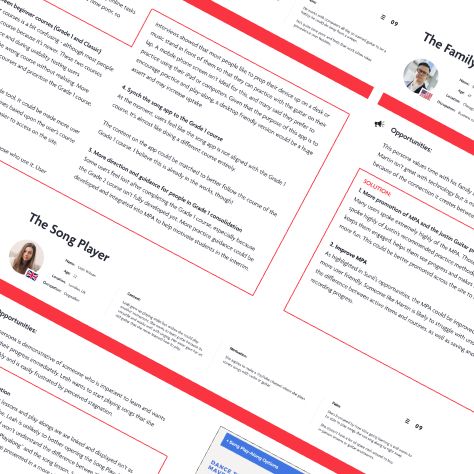 Capitalising on gaps and opportunities
Our detailed competitor analysis shed light on Justin's positioning and market gaps which he could use to his advantage. Qualitative interviews with both Justin and his users allowed us to refine a unique value proposition. Through a cognitive walkthrough, UX review and comprehensive usability testing, we were able to make concrete and high impact action recommendations for improving the user experience of the site.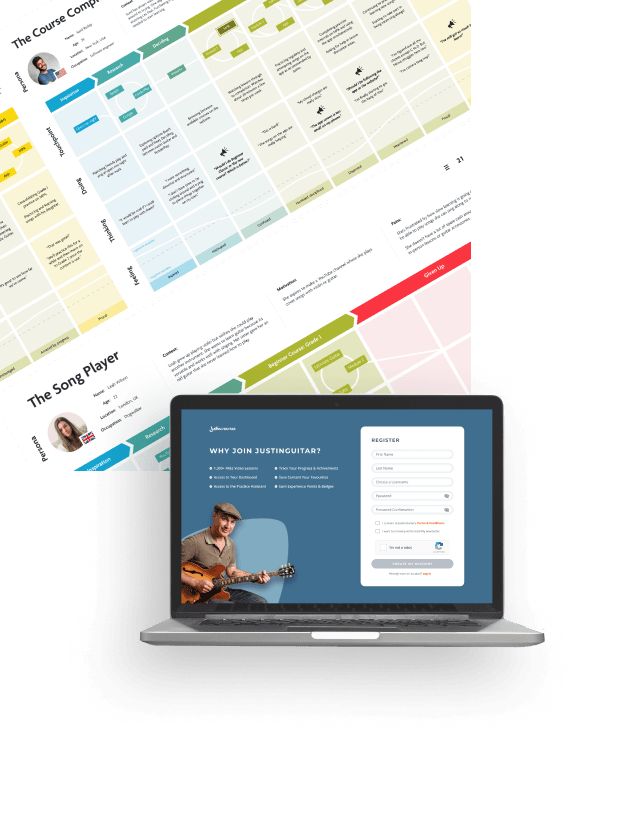 Connecting visuals with associations
We also used implicit cognition testing to understand the mental associations brought up by the visual language of the site, and ran website usability tests and interviews enhanced by AI facial expression analysis, in order to uncover the unconscious motivators, inhibitors and decision-making factors that users associated with learning guitar lessons.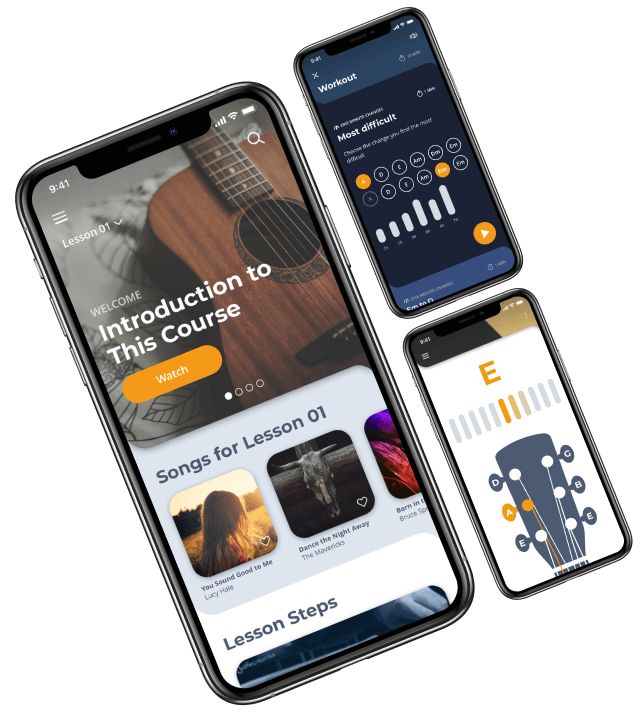 Happy Clients
Testimonial
I knew I could rely on the team 100%
If you suspect there is something wrong with your website, I would definitely recommend getting the Pomegranate team involved, the research they can do into user experience and emotional connection with your audience is super powerful!

Justin Sandercoe,
CEO of Justin Guitar
Our Work
Just some of our most

successful

projects