Vitl, a UK-based startup producing personalised vitamins, which has considerable growth potential, but to achieve this we felt they needed to better understand their market landscape and refine their marketing strategy.
Personalisation, a topic that has exploded across all industries in recent years, but particularly in the health and wellness industry. Companies are now using the personalised angle to provide consumers with products that fit perfectly for them - a significant competitive advantage to better meet the needs of their customers.
Vitl, a UK-based startup producing personalised vitamins, is one those companies. It has a considerable growth potential, but to achieve this we felt they needed to better understand their market landscape and refine their marketing strategy.
Using our proprietary Market Matrix technology, we quickly understood who Vitl's core competitors are, and how they could capture unrealised market opportunities to find an ideal market niche.
By collecting historical data from 1,300 web pages on core competitors, we were able to peek into the past of rivaling companies to identify trends for the future of the Vitamin industry and generate insights which will help Vitl capture a more significant market share.
Our Web Pulse quickly established a ranking of competitors, who interestingly enough, are all based in the US, an interesting point when Vitl pulls most of its traffic from the UK.
The least threatening three are, in order of importance, Dailygem, who are facing a downward trend of traffic, Humnutrition, and Takecareof, who outperforms the others mostly because, added to traffic from the US, they also have some popularity in Japan.
The biggest threat to Vitl is the company that the Web Pulse identified as the market leader in providing personalised vitamins: Ritual. Its traffic dwarfs Vitl, with search volume coming from the US, UK and Canada in equal measure. This is also reflected in company size and funding: Ritual has total budget of 40.5M USD, whereas Vitl has 1.3M USD in funding and more than 10 times fewer employees.
So where is VITL's opportunity to explode the market?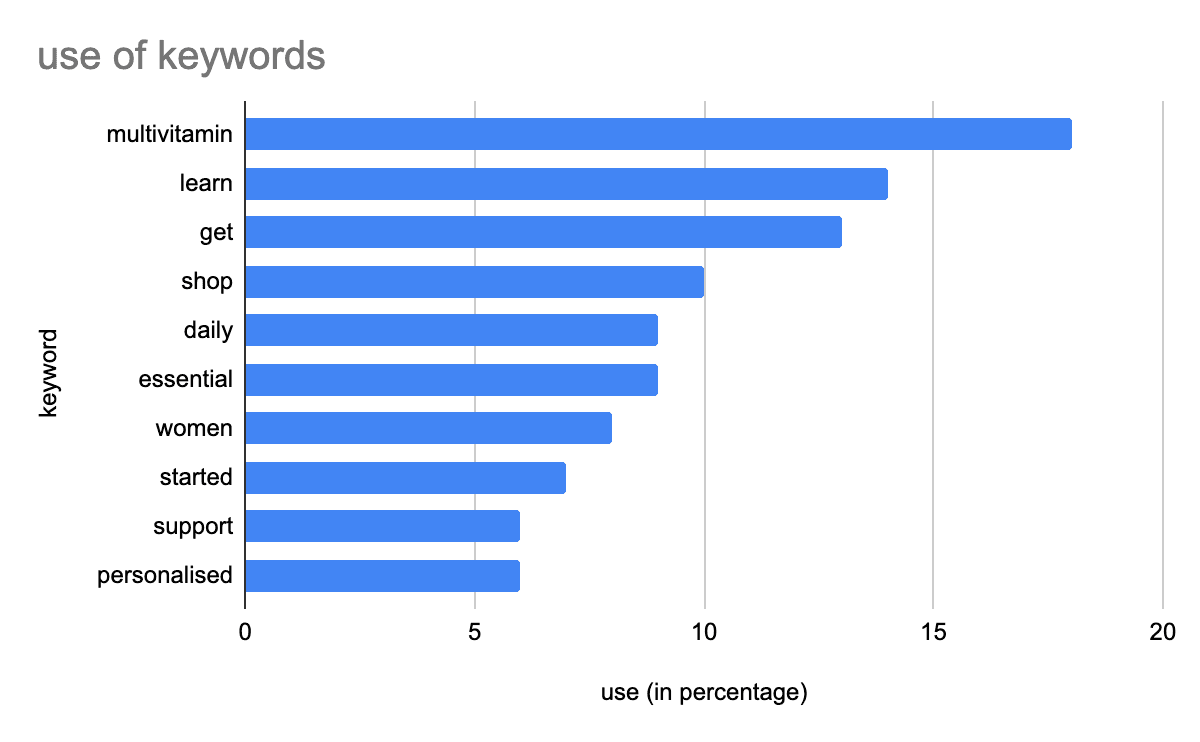 Based on keyword usage of all competitors, multivitamins were a core marketing focus, as seen in the figure above.
Similarly, as the keyword analysis above reveals, emphasis is placed on educating the prospective customer on the benefits of consuming the products: give them all the essential nutrients they need and supporting a healthy lifestyle. The keyword analysis also highlighted a strong focus on a female audience.
Based on this, it's essential that Vitl educate their customers on the benefits of their vitamins, emphasising the importance of daily intake (perhaps using regular communications to remind them) and to focus on a female audience, as we will discuss in more detail later.
Sometimes fewer options are better
Trends also highlighted that multivitamins are a far more popular product than single vitamins. From this we can learn that overcomplicating the offering can overwhelm the user by giving them too much choice, this most commonly will lead to abandonment rather than purchase.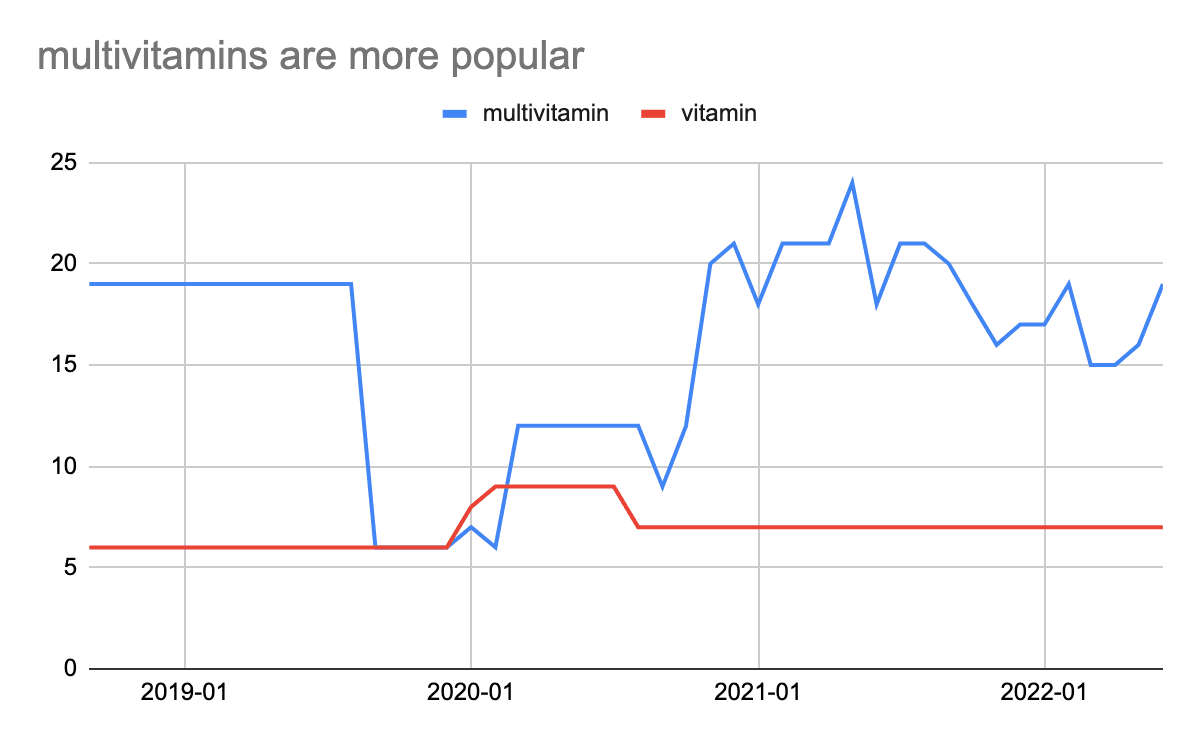 From this, Vitl can learn that, rather than offering choice, giving concrete packaged offerings, such as one multivitamin - or prepackaged multivitamins for specific use cases - rather than dozens of individual vitamins, is the way to go. This is reflected by leading brands offering single vitamin products, which forcefully makes this point.
Female focus is here to stay…
Another interesting find is that women make up most of the audience for vitamins and nutritional supplements. This is also reflected in Google Search volume trends over time, as shown in the figure below, with women generally displaying a consistently greater interest in both vitamins and nutrition. While we can speculate as to where this gender gap comes from - perhaps this comes down to a greater health-interest and risk aversion among women.
But it's not just because the interest in vitamins and nutrition, related search trends for women are predominantly on tablets and supplements for hair and skin care, as well as on gummy candy, all of which are mostly purchased by female customers.
Vitl already focuses on a female audience more so than a male one - and we think this confirms that they know their audience!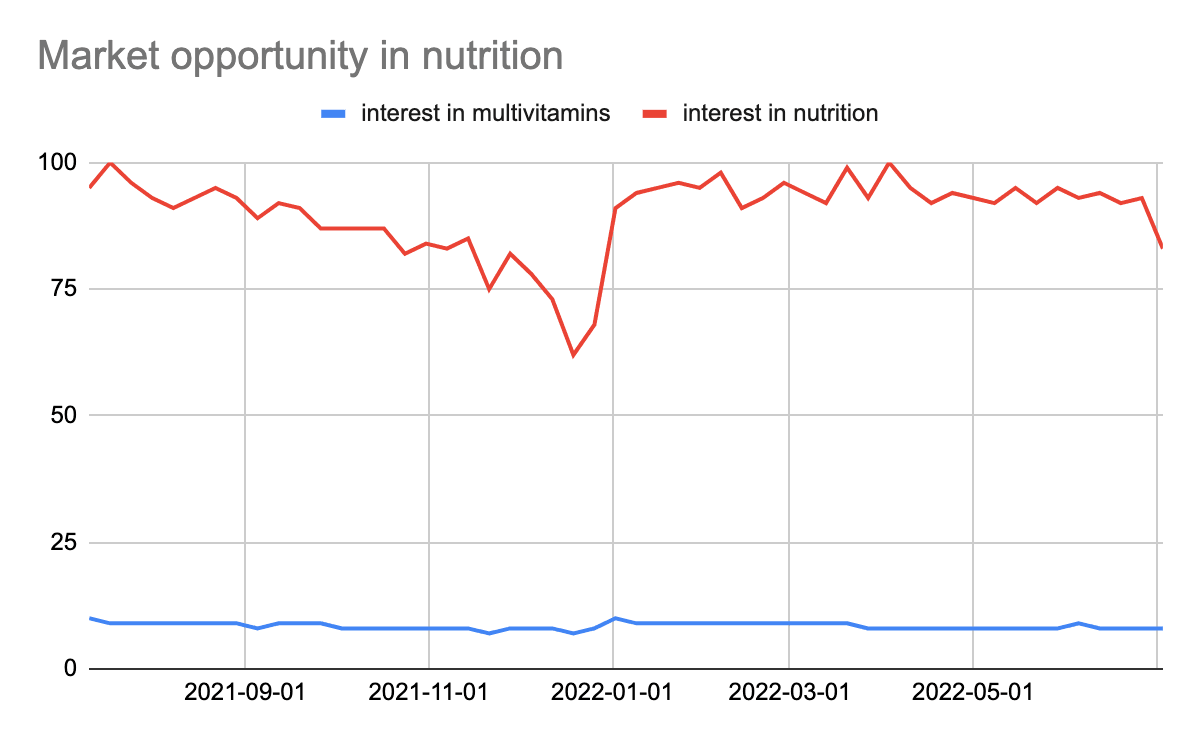 A Marketing Misalignment
When comparing search volumes on vitamins and nutrition more generally, it was found that the interest in nutrition consistently and vastly outperforms that of interest in vitamins.
Historically, vitamins have been more closely associated with supplements, and nutrition is more general concern for diet and health. This may explain the greater number of people searching for nutrition over multivitamins.
Landing pages of leading health sector companies focus very much on multivitamins rather than nutrition, a misalignment between customer needs and marketing solutions.
Offering a product which promotes nutrition, should gain higher attraction and engagement.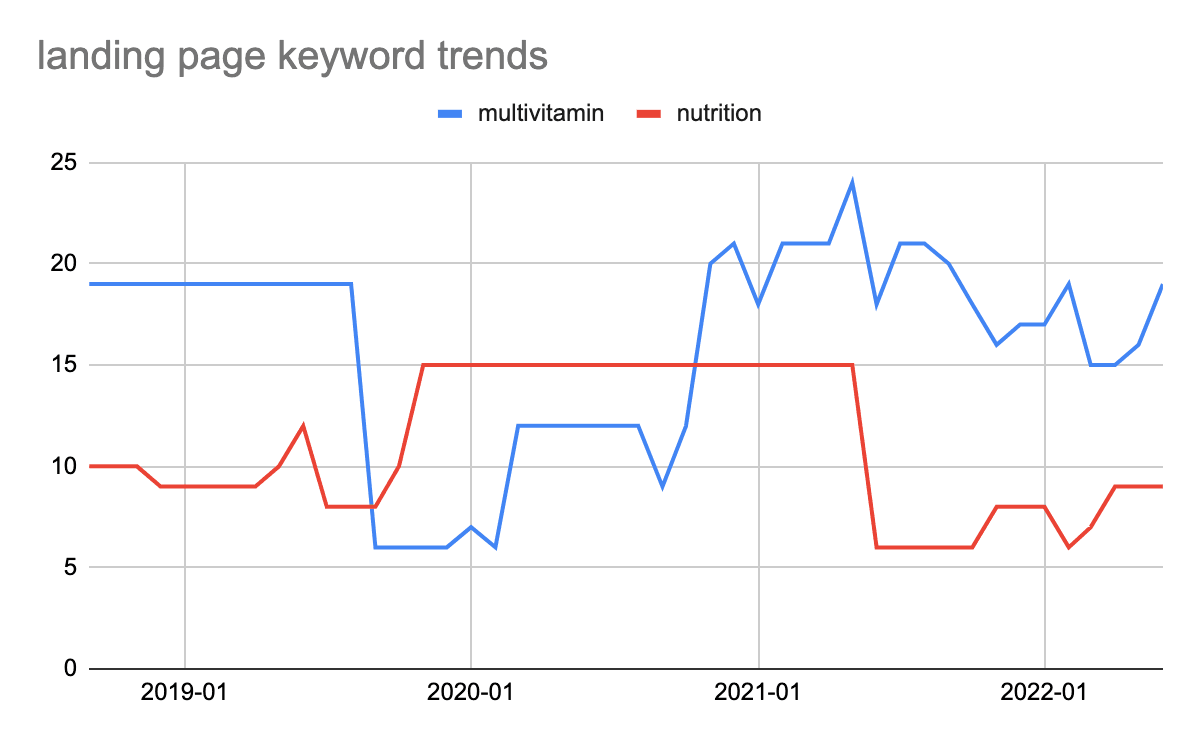 'Nutritional Completeness' is a huge untapped opportunity for the health and wellbeing business! While there are already noteable companies offering products in this space, like Soylent, YFood and the UK-based market-leader Huel, the market is far from mature with plenty of growth potential.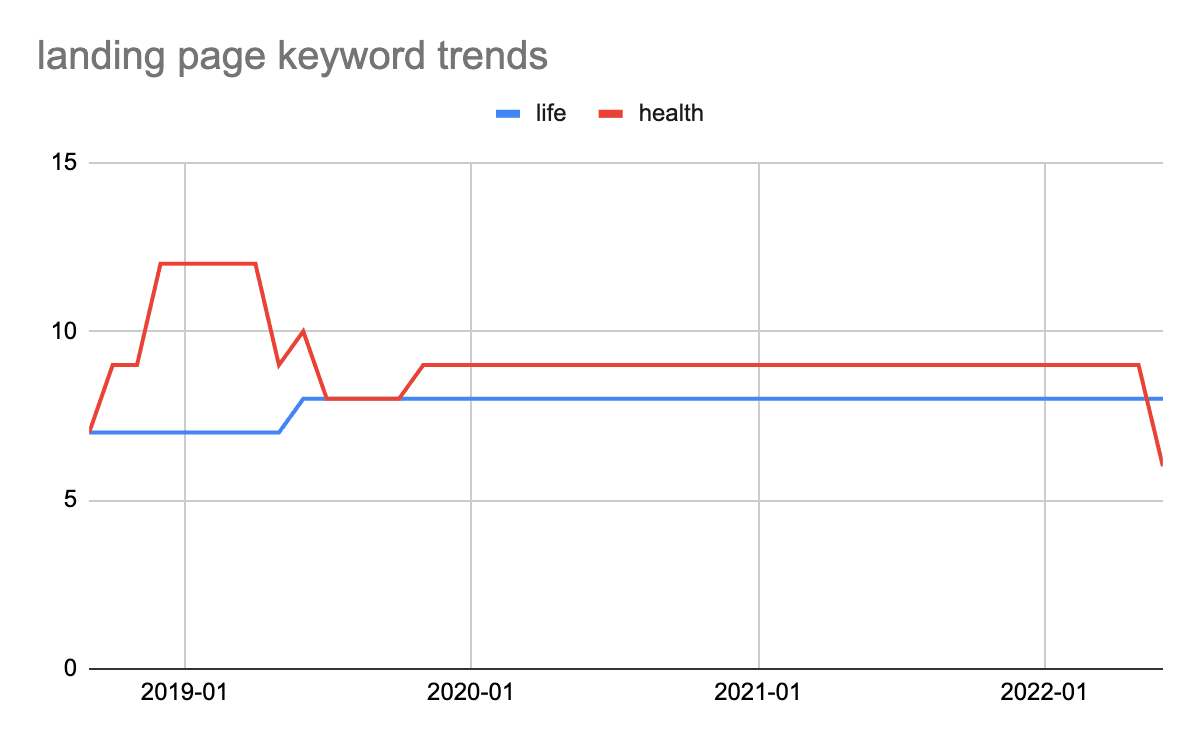 Wellbeing and preventative care
Until recently, multivitamins have been marketed as health-promoting, rather than part of a healthy lifestyle. This has recently changed, with a wellbeing-lifestyle being the new focus point. This subtle difference marks the divide between preventative care and treatment.
We conducted a similar analysis for Precision Biotics, whereby it was apparent that probiotic products were purchased to ensure future wellbeing rather than counter current health problems. This small yet meaningful difference made a huge impact on the communications and branding that was needed to engage consumers.
Vitamins as part of a lifestyle
The importance of wellbeing and preventative care to consumers is much more significant now that it ever has been, so by framing multivitamins and supplements for optimal nutrition as part of a generally healthy lifestyle, and by talking about healthy diets and fitness routines means that Vitl can connect to a wider audience, increasing outreach and building a more loyal customer base.
Actionable Insights for Vitl
From a short deep dive into the world of personalised vitamins we have found a several untapped potentials that will help Vitl to grow their outreach and optimise their strategy.
This is just a high-level look at what we achieve to help our clients better understand their audience and competitive landscape, by offering actionable insights on how they can grow and optimise their strategies to impact business success.